The Dojo of Montpellier is an authentic and traditional Zen Dojo, directed by a Master of the transmission of patriarchs, Master Kosen Thibaut (disciple and successor of Master Taisen Deshimaru, some of whose belongings are kept on site).

The Zen Dojo of Montpellier is a unique place where monks and nuns, close disciples of Master Kosen, are meeting daily. It's a great opportunity for beginners and for regular visitors to be among true practitioners of Zen Buddhism.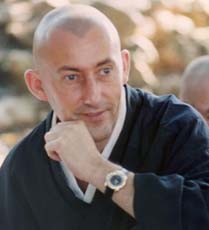 Zen Teaching
This dojo is directed by Master Kosen Thibaut
Zen monk since 1971, Master Kosen practiced fifteen years at the of Master Taisen Dehimaru, of whom he was one of the closest disciples.

Since the death of his Master, he continues the practice of Zazen and directs many Sesshins.

In 1984, he received Shiho (the Dharma transmission) from the hands of Master Niwa Zenji, the highest authority of Zen in Japan, and hence became himself a Master in the tradition of Zen.

In 1997, he published the book "Zen, the inner revolution" and in 2006 he published "The five stages of Awakening (Editions du Relié)"

For more information about Master Kosen

On the days and times shown below, the Dojo is opened for the practice of Zazen. Zazen lasts around an hour and a half. We ask you to arrive 10 minutes in advance to prepare yourself for Zazen.
| | | |
| --- | --- | --- |
| Tuesday | 07:30 | 19:00 |
| Wednesday | 07:30 | |
| Thursday | 07:30 | 19:00 |
| Friday | 07:30 | |
| Saturday | 11:00 | |
| Sunday | 11:00 | |
Beginners' course in the practice of Zazen
The beginners' course takes place each Tuesday, 10:15
During the beginners' course, you will be shown the different sorts of meditation exercises which are traditionally practiced in an authentic Zen Dojo : Zazen, Kin-Hin, Sampaï, Gassho.
You will be assisted in the practice of these various exercises by zen monks or advanced practitioners. You will also learn about proper behaviour and attitude in a Dojo during meditation.
The course lasts 45 minutes and is followed by a 1 hour Zazen. This is free of charge. No need to register in advance. Just dress in loose fitting, dark clothes.
Address : 34 rue Bourelly 34000 Montpellier FRANCE
By tram
Tram nr. 2. Get off at "Rondelet" and walk towards Avenue Georges Clémenceau, following Rue Carlencas or de Bercy. At the end, take a left to go up Avenue Georges Clémenceau. Rue Bourrely is on the right hand side of this Avenue. The Zen Dojo is nr. 34.
By bus
Bus nr. 6 and 7 stop at Berthelot and Lycée Clémenceau which are very close to Rue Bourrely. Rue Bourrely is on the right hand side of Avenue Georges Clemenceau travelling away from Montpellier. The buses nr. 5,14,20,26,27 and 33 also stop at Berthelot.
By car
Access to Rue Bourrely is from Avenue Georges Clémenceau. This Avenue is the continuation of Avenue de Toulouse. Going down avenue Georges Clémenceau, Rue Bourrely is the first on the left, right before the Intermarché. Parking is allowed in Rue Bourrely and next to the tax authority office. Don't forget to take some loose change for the parking.
Display
Montpellier Zen Dojo
into a bigger map
Pictures from Montpellier Zen Dojo