Yujo Nyusanji Zen Temple was founded by Master Kosen, heir of Master Mokudo Taisen Deshimaru's Dharma. Master Kosen, his disciples, and members of Zen Deshimaru Buddhist nonprofit organization retire to the temple to practice sesshins, samu, and daily gyoji. . . and also to recharge their batteries, take a deep breath of mountain air, spot wild mouflons, learn archery, and dive in the peaceful atmosphere of forests and rivers.

The Caroux Zen Temple is located right in the heart of the Haut-Languedoc regional natural park, 1 h 40 west of Montpellier, France.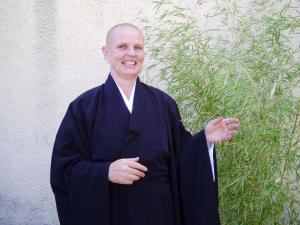 Zen Teaching
This dojo is directed by Master Gyu Ji Ingrid Igelnick
Ingrid Igelnick came across Zen and met Master Deshimaru in 1978. In 1984, she received the nun ordination by Master Kosen, of whom she received the transmission of the Shiho in 2015.
Parallel to this, she has trained in shiatsu (Zen massage) and she has created Soi-Zen, a clothing workshop for kimonos and kolomos.
She practices zen with her Master since 1992 and assists him in his mission. She has been leading sesshins for several years and also teaches the sewing of the kesa.
As part of the renovation of the home for the guardian of the zen temple Yujo Nyusanji, a weekend of painting samu is organized by Ingrid on 16th and 17th September.
Program
Arrival Friday evening for dinner
Saturday
zazen 8h
samu 10h30 to 13h
lunch then siesta
samu 15h30 to 18h30
zazen 19h

meal then sleep
---
The project to buy and install a great zen bell for the temple Yujo Nyusanji started during the recent summer camp. The first part of the project has already been achieved: the bell was born out of an old cistern at a metal workshop in Monterrey, Mexico. Soon it will fly over the Atlantic Ocean and arrive in Marseille, where we will pick it up.
---
Pictures from Yujo Nyusanji zen temple