The Budapest zen dojo is an authentic and traditional Zen dojo dedicated to the daily practice of Zen.
The responsible has received monk or nun ordination, and practice the main sesshins within the Kosen Sangha.
The dojo welcomes anybody wishing to discover the practice of zazen, in the spirit transmitted by Master Deshimaru.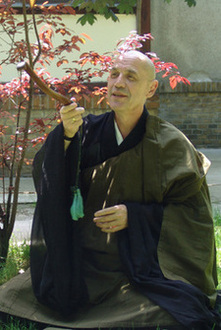 Zen Teaching
This dojo is directed by Master Myoken Bec
Just before his death in 1990, Master Mokusho Zeisler gave Yvon Myoken Bec, the mission to create a dojo in Budapest - to spread the teachings of Master Deshimaru in Hungary, his country of origin and in Eastern Europe.
Master Myoken followed the teachings of Master Deshimaru and Master Mokusho Zeisler for more than thirty years. He himself has taught for fifteen years in Hungary and in Eastern Europe. He founded two temples, Taisen-ji, in Budapest, and Hôbo-ji nearby, as well as dojos in Bucharest and Zagreb.
In the fall of 2002, Master Myoken received the dharma transmission from Master Stéphane Kosen Thibaut, who along with Master Mokusho Zeisler is one of the successors of the dharma of Master Deshimaru, making him 85th patriarch in the lineage of Buddha.
On the days and times shown below, the Dojo is opened for the practice of Zazen. Zazen lasts around an hour and a half. We ask you to arrive 10 minutes in advance to prepare yourself for Zazen.
| | | |
| --- | --- | --- |
| Monday | 06:00 | 18:30 |
| Tuesday | 06:00 | 18:30 |
| Wednesday | 06:00 | 18:30 |
| Thursday | 06:00 | 18:30 |
| Friday | 06:00 | 18:30 |
| Saturday | 08:30 | 18:00 |
Beginners' course in the practice of Zazen
The beginners' course takes place each Monday,
During the beginners' course, you will be shown the different sorts of meditation exercises which are traditionally practiced in an authentic Zen Dojo : Zazen, Kin-Hin, Sampaï, Gassho.
You will be assisted in the practice of these various exercises by zen monks or advanced practitioners. You will also learn about proper behaviour and attitude in a Dojo during meditation.
The course lasts 45 minutes and is followed by a 1 hour Zazen. This is free of charge. No need to register in advance. Just dress in loose fitting, dark clothes.
Address : Rakosi ut 77 BP-1161 1161 Budapest HUNGARY
Display
Budapest zen dojo
into a bigger map
Address : Rakosi ut 77 BP-1161 1161 Budapest HUNGARY
Tel. : +36 70 386 20 02
Website : Budapest zen dojo
Send us a message
Pictures from Budapest zen dojo